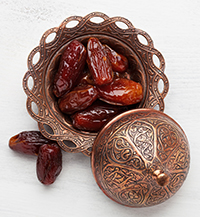 Once again, Muslim Americans for Compassion, in partnership with Interfaith Paths to Peace, will host the annual Interfaith Iftar Dinner. This year's Iftar dinner will take place Tuesday, May 14, at Second Presbyterian Church (3701 Old Brownsboro Road, Louisville, Ky., 40207). Doors open at 7:30 p.m., and the program begins at 8 p.m., with the breaking of the Ramadan fast to take place at 9:05.
This event is free and open to the public, however registration is required. Click Here to Register!
"Iftar" is the fast-breaking meal observed each evening at sundown during the holy month of Ramadan. The Interfaith Iftar Dinner is an opportunity for the whole community to join our Muslim friends for an evening meal as they break their Ramadan fast. The event includes a traditional Middle Eastern meal, along with presentations by community peacemakers.