For 10 years, Interfaith Paths to Peace and Muslim Americans for Compassion have hosted an annual Interfaith Iftar Dinner for citizens of all backgrounds to break bread together and learn more about the holy month of Ramadan. These events have blossomed over the decade as community leaders and families from across the state have joined in the celebration.
As the COVID-19 Pandemic has changed so much about our lives over the past few months, so did it change this year's Iftar celebration. There was no possibility of bringing hundreds of people together in a single space this year, at least not physically. Instead, the dinner was celebrated with families and loved ones in a digital space. For the first time ever, dozens of households used the Zoom video conferencing application to share this special evening with friends new and old.
As guests logged in at 7:30 p.m., Thursday May 14, Interfaith Paths to Peace Executive Director Jud Hendrix greeted them with a smile. "I'm happy to host this with Muslim Americans for Compassion and thank you to the Muslim communities who have invited us into their homes. Thank you to all who helped put this dinner together and thank you for being with us."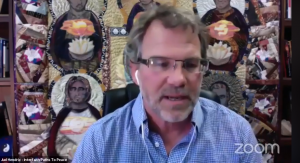 Mr. Hendrix continued by saying, "We're deeply grateful for your hospitality, letting us into your lives, your faith and into conversation with you. We also want to give thanks for the beautiful way you practice faith in our community. The way you live your lives is a testimony to your faith, and our community has been transformed by you."
"Iftar" is the fast-breaking meal observed each evening at sundown during Ramadan.  The Interfaith Iftar Dinner is an opportunity for the whole community to come together for an evening meal as those of Muslim faith break their Ramadan fast.  The event includes a traditional meal, along with presentations by community peacemakers. As the guestlist swelled, the program continued with Dr. Muhammad Babar, President of Muslim Americans for Compassion, speaking next.
"I want to begin by thanking Interfaith Paths to Peace. My personal journey in the city of Louisville started with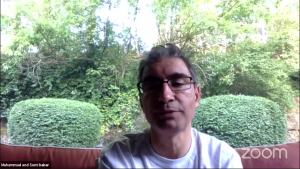 them. I also want to thank my fellow MAC board members for their sacrifices of time, money and talent," Dr. Babar said, before moving on to discuss the elephant in the room(s).
"This pandemic has changed our lives in ways we never imagined, but it has also given us a pause to reflect on our life and our surroundings," he explained. "I'm proud of Louisvillians that they've come together as one community, and they're serving those who are putting their lives at risk. We need to remind ourselves that sooner or later this pandemic will be over and life will go on. Let's not forget that we're all one. We must reach out to others because kindness and compassion is inherent in every human soul."
Then Dr. Babar proudly introduced the evening's next guest and a 10-year veteran of the Interfaith Iftar Dinner. "Mayor Greg Fischer lives compassion. It's not easy to be a political leader in these difficult times. You need to do the right thing and make sure everyone is taken care of despite limited resources. We're honored that he has joined us this evening."
One pleasant aspect of this digital conference was being able to see the love, joy and warmth on everyone's faces as the evening went on. Family members sat side by side, smiling at the message of compassion that was being shared in every home.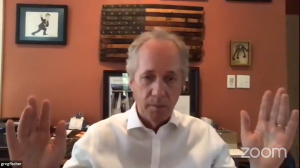 "This is one of my favorite nights of the year," Mayor Fischer explained, "because you unmistakably feel the community love and affection we have for each other. I think we should pat ourselves a little on the back, because we work hard in this community to build interfaith appreciation. We've learned to love each other and meet people we wouldn't have met otherwise. This is the celebration of humanity that the world needs to see is possible. If we stay the course, we affirm ourselves."
Mayor Fischer, like Dr. Babar before him, addressed the Coronavirus pandemic, and he reinforced the positivity that must shine through in each of us.
"We're being tested right now. Whether we're socially together or apart, what matters is our connection to each other. It would have been easy to say, "Well, there's a pandemic, so we won't have the dinner." But, there's no quit in this group. We know we're going to get through this. We don't know how long its going to take. We'll be successful as long as people continue to practice health techniques and are humble to the virus. This virus has been a darkness because of the pain and suffering it has caused. But, it's revealed an incredible light in our community. We are in this in solidarity, and we will get through this together."
Following Mayor Fischer's beautiful expression of community, that belief was put into action. The entire Zoom conference broke into small groups of six to eight attendee families. Strangers and acquaintances were allowed to meet and learn about each other in an intimate setting. It was a 40-minute conversation that was over much too quick.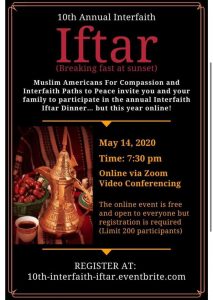 Just before sundown, those groups came together as one. Mohammed Iqbal, imam of the Louisville Islamic Center, thanked everyone for attending and sang a prayer. He said, "In 11 years of marriage, this is the first year I'm eating Iftar at home with my family. There are many silver linings that come out of hardship. We ask God to protect our families, communities and front-line workers. We're all in the same boat, but we're not all in the same storm. For some, it's sprinkling. For some, it's a hurricane. We recognize the pain and suffering taking place right now, and we honor those who are doing all they can. We're in this together."
As the sun went down, the virtual celebration came to an end. Each guest signed off to break fast in their home. But the night delivered just as it needed to. A community arose out of nowhere, and a positive light was delivered into each house that took part. When next we can all come together in one place, the celebration will be that much sweeter.